Control how your respondents view and interact with your videoask from the advanced settings panel. 
To get to advanced settings: 
1
Go to your videoask Settings 
2
Select the Advanced tab. You'll see all the options you can adjust here. Keep reading to learn about each one!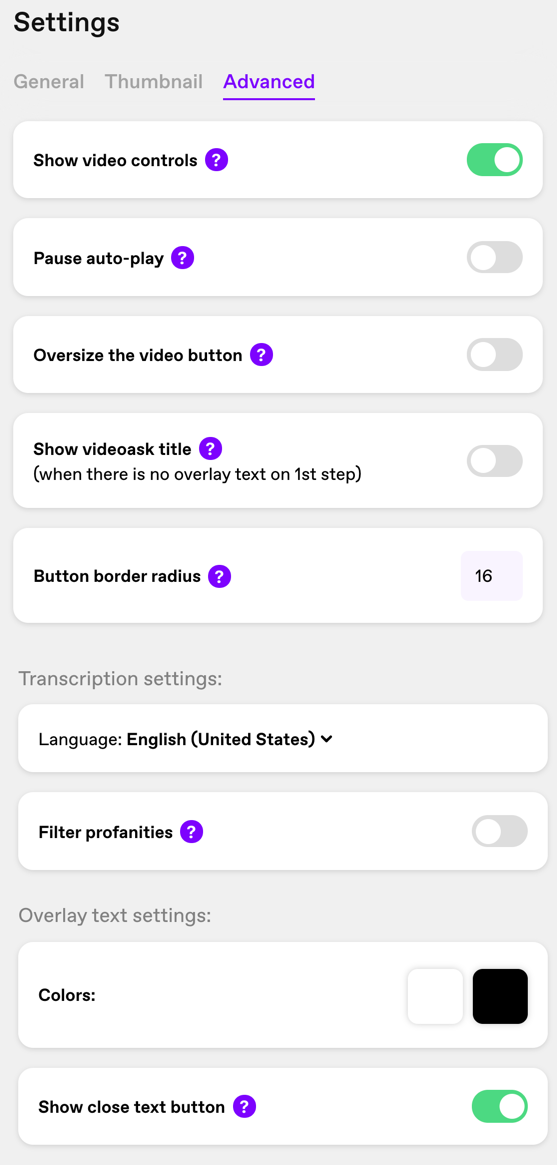 Show Video Controls
Show/hide the video controls (time stamp, fast forward and video fit) at the top of your videoask.
Pause auto-play
By default videoasks auto-play on mute. Pause auto-play to freeze the first video so respondents must push play to see and hear the video.
Oversize the video button
Encourage video recording by increasing the size of the video option or keep all response option buttons the same size.
Show videoask title
Show/hide the title on the first step of your videoask.
Note: this option only works if there is no other overlay text.
| | |
| --- | --- |
| | |
|   |   |
Button Border Radius
Control the border radius of all filled buttons (except circular confirmation buttons when recording video or audio)
Transcription Settings:
You can select the language spoken in your videoasks so that they are more accurately transcribed.
Note: Transcriptions are generated directly after uploading or recording a video to your videoask. If you update the transcription language after adding videos, you will need to re-upload or re-record your videos in order for the chosen language to applied to the transcription. 
You can also activate Filter profanities to detect inappropriate language and filter it out of your captions.
You can learn more about editing transcriptions and captions here. 
Overlay Text Settings
Color
Change the color of your overlay text (the text on top of your video). Add a background color for more contrast.
Close overlay text button
Show/hide the X button that allows respondents to dismiss overlay text.