If you're using VideoAsk for recruitment, lead generation, research or other purposes that require multiple tools, learn how to take advantage of our integrations to add it to your existing workflow!
Different integrations allow you to do different things with your videoask. Some are integrated into our answer types and can be added directly to your videoask flow. Others allow you to send the records of your responses elsewhere so your leads or contacts can be centralized.
Learn more about each of our existing native integrations to maximize the use of VideoAsk. If you don't see your preferred tool listed here yet, let us know what integrations you'd like to see in the future!
Jump to:
Customer Relationship Management (CRM)
Applicant Tracking Systems (ATS)
Customer Support and Communication
Calendars
Our four calendar integrations allow you to embed a calendar directly into your videoask flow.
When paired with our other answer types, this gives you a great way to collect information from contacts before hopping on a live call with them (or offer a backup option if using the live call option built into VideoAsk).
Embed your Calendly calendar into any step of your videoask.
Embed your ScheduleOnce calendar into any step of your videoask.
Embed your Hubspot Meetings calendar into any step of your videoask. This will create a contact in Hubspot when a respondent books a meeting in your videoask.
Embed your Acuity calendar into any step of your videoask.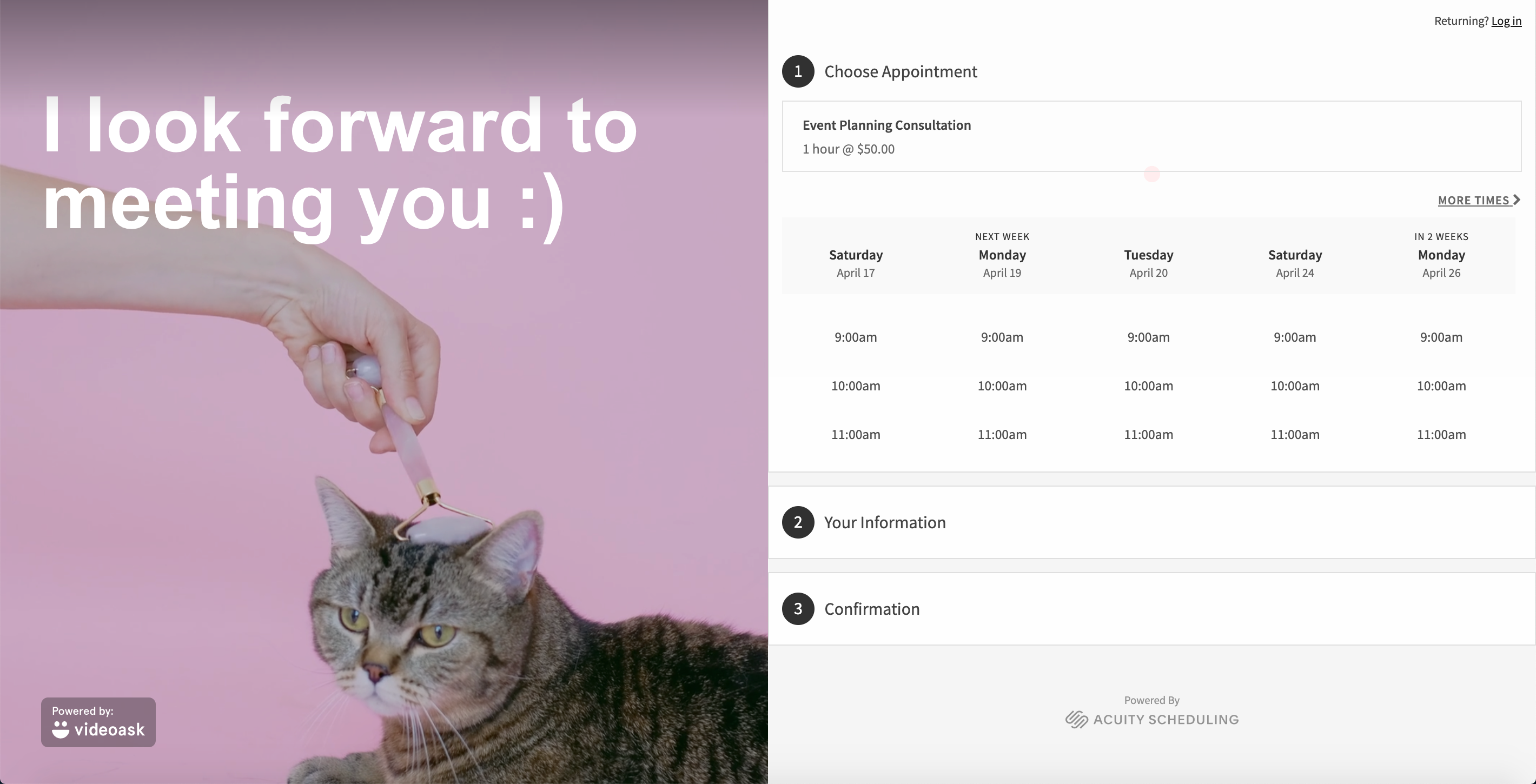 Payment Platforms
Collect payments from within your videoask by creating a paywall with Stripe. Set the required currency and payment amount to force respondents to submit a payment before they can proceed with the rest of your videoask.

Spreadsheet Software
Connecting your videoask to a Google Sheet will generate a new line of data in your selected sheet each time you receive a response to your videoask.
When paired with the .csv file export option, you can combine historic data with new data or merge datasets between multiple videoasks.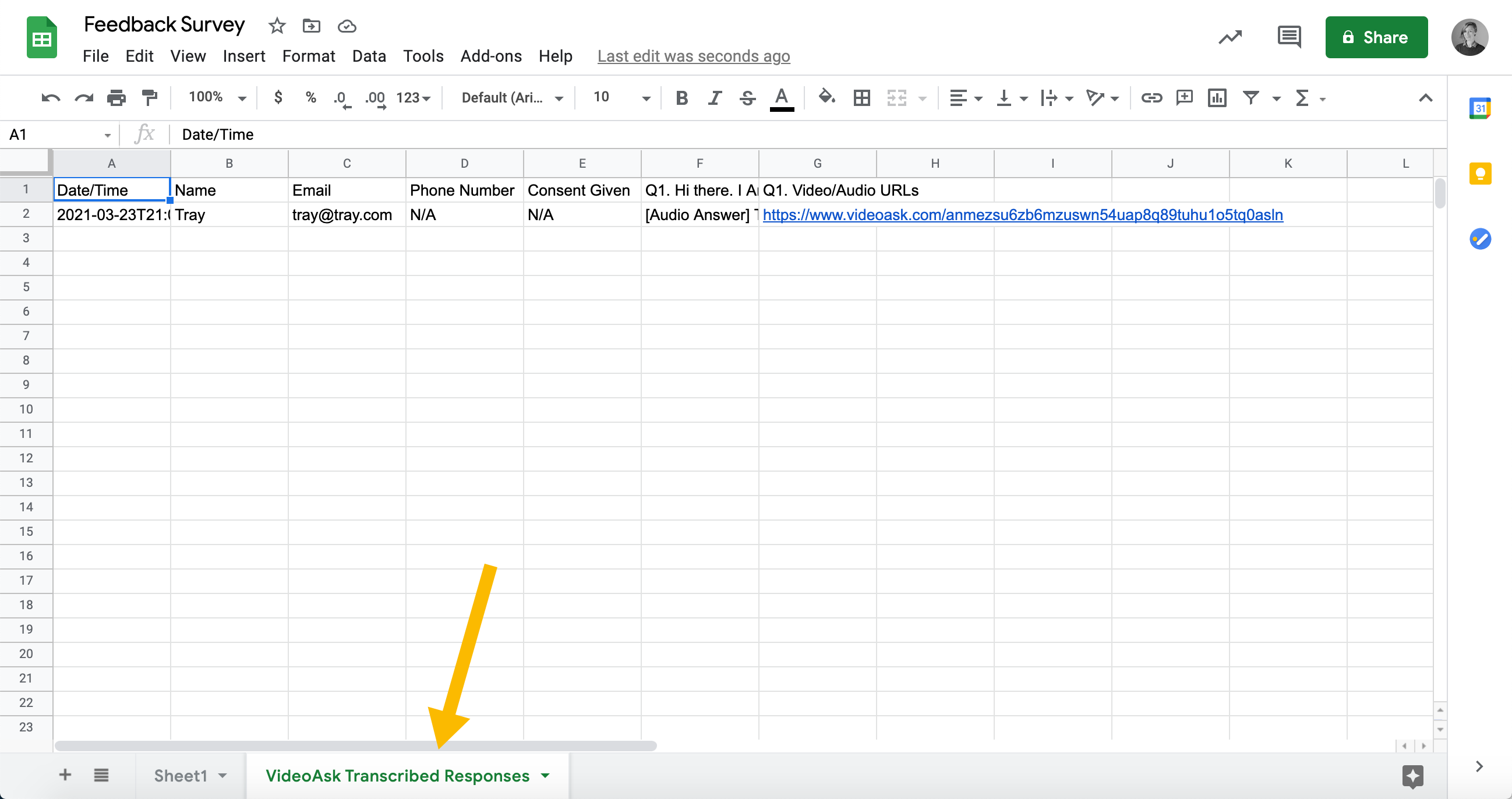 Customer Relationship Management (CRM)
Create a new contact in Hubspot when a person responds to your videoask, with the option to map the answers of VideoAsk steps to specific fields in Hubspot.
When a contact is created, you'll see their videoask response in the contact's activity feed with the option to view responses directly in Hubspot.
Create a new lead in Salesforce when you collect a new response in VideoAsk.
Upon setup of this integration, you'll have the chance to select which destination object in Salesforce will be created from new VideoAsk responses, as well as map the answers of videoask steps to fields in Salesforce.
Applicant Tracking System (ATS)
This integration lets you pair the power of VideoAsk to recruit and screen new candidates in a video format while tracking all applications in Greenhouse.
When a candidate responds to your videoask application form, a new candidate will be created in Greenhouse and all their answers will be recorded in their profile, including file uploads and video answers. Any replies sent to a candidate using VideoAsk will also be logged in their Greenhouse activity feed.
Customer Support and Communication
Use our Zendesk integration to track tickets on Zendesk Support's ticket management platform, while providing video support in VideoAsk.
New responses to your videoask will generate a new ticket in Zendesk, along with the respondents' contact information. When you or a respondent reply in VideoAsk, the ticket status will automatically update in Zendesk.
When you add the VideoAsk App to your Intercom dashboard, you can insert videoasks directly into Intercom chats. This includes automated chat flows (bots) as well as live chats.
Responses to your videoask will be visible within your Intercom chat dashboard as well as your VideoAsk inbox.
Video Hosting and Editing
If you use Wistia for video hosting, you can export videos from Wista directly to VideoAsk to add the footage to a step of your videoask.
Once exported, videos from Wistia will live in your VideoAsk media library.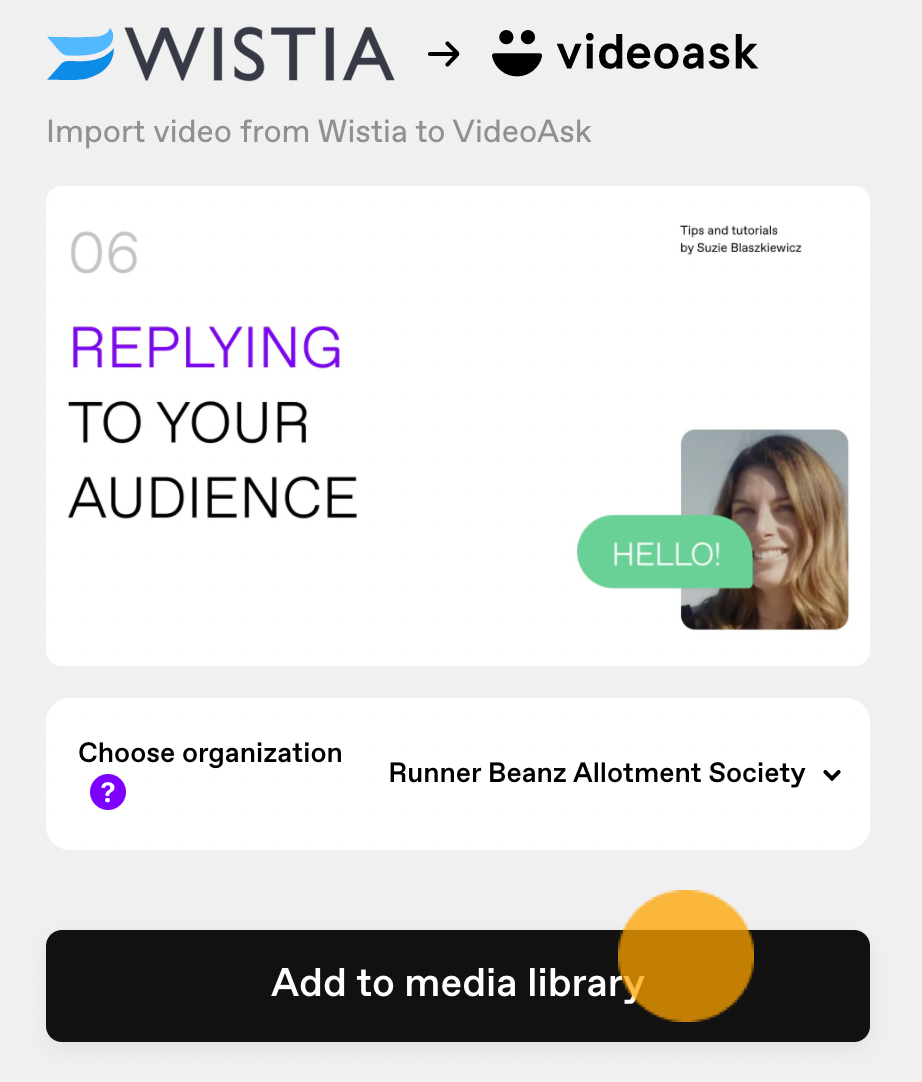 Pair Descript's powerful video editing software with VideoAsk's video forms by exporting edited footage directly from Descript into VideoAsk.
Similar to our Wistia integration, this direct export option will bring a media file you've worked on in Descript into your VideoAsk media library, which you can then use in an unlimited number of videoasks.
Automation Tools
Connect your videoask to hundreds (if not thousands!) of other tools in Zapier using a series of triggers.
When you receive a response to your videoask, the sequence you have set up with Zapier will automatically trigger, allowing you to build complex workflows across virtually any online tool.
Tracking Tools
For improved tracking and optimization of your videoasks, track their engagement with Google Analytics, Google Tag Manager, and Facebook Pixel.
Once connected, these tools will track events when a respondent loads your videoask, completes a step, the entire videoask, and the contact form. 
Typeform
Though we're part of the same company, VideoAsk and Typeform are not fully integrated (yet!).
But if you're looking to use the tools together, there are a few handy options to embed a videoask in a typeform, embed a videoask response in a typeform, or connect them with variables!