Track events and engagement with your videoasks using Google Analytics, Google Tag Manager, and Facebook Pixel.
Connecting your VideoAsk to these tools will track four events:
videoask_presented (your videoask has loaded/displayed)
videoask_question_submitted (a respondent completed a step of your videoask)
videoask_submitted (a respondent completed your videoask)
generate_lead (a respondent completed the contact collection form in your videoask)
To connect these apps:
2
Select Connect next to the platform you'd like to use for tracking your videoask performance.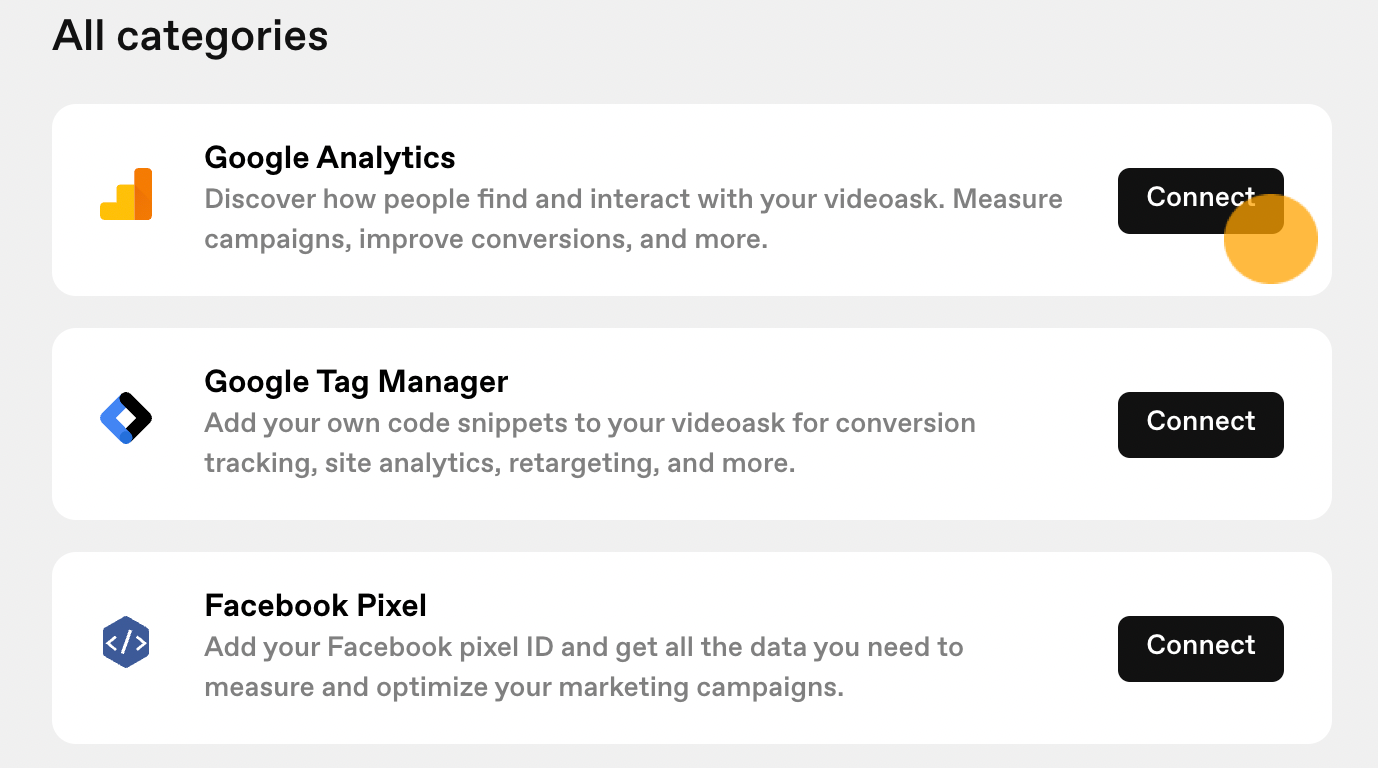 3
To connect to Google Analytics, copy and paste your tracking ID and hit Save.

4
To connect to Google Tag Manager, copy and paste the container ID from your account and hit Save.
5
To connect Facebook Pixel, copy and paste your Pixel ID from your Facebook Business Manager account and hit Save.
That's it! If everything is set up properly for each of your respective accounts, you can now track engagement with your videoasks on each of these platforms.
To remove or update, simply hit Disconnect and enter the appropriate ID.
FAQ
Why is there a discrepancy between Google Analytics and metrics from VideoAsk?
This could be due to a number of reasons:
If your videoask is embedded on a site with cookie consent implemented, site visitors could be opting out so they don't appear in your Google Analytics metrics, but still appear in your videoask metrics.
Users may have added Google Analytics to an ad blocker, but VideoAsk metrics would not be affected by this.
Can I use UTM Parameters with the Google Analytics integration?
Yes! If you have a videoask embedded on a landing page you can connect it to Google Analytics following the instructions above, and you can also use UTM tags for tracking things like traffic source and engagement.
I'd like to use the verified domain features in Facebook Pixel. Is this possible with the integration?
If you want to use the verified domain features in Facebook Pixel you will need to set up a custom domain for the videoask.
Which versions of Google Analytics are supported with VideoAsk?
We support both Google Analytics 4 and Universal Analytics.