Do you want your respondents to get the best quality recording from your respondents for your use case? Find out when it's best to use Streamed Recording and when to switch to Uploaded Recording. 
We have two different types of recording technology that can be used to submit responses to a videoask. The default setting is Streamed Recording (previously called "Live Recording"), but your videoask can be switched to Uploaded Recording at any time.
Read on to learn about the pros and cons of using each recording method so you can choose the best setting to use for your videoask.
Jump to:
Change from Streamed Recording to Uploaded Recording
What is an Uploaded Recording?
How to choose between Uploaded and Streamed Recording
Note: Streamed Recording is the default setting for all videoasks created after August 19, 2020.
Change from Streamed Recording to Uploaded Recording
1
Log in to your VideoAsk account and select the videoask you want to edit from the left sidebar.
2
Click Build to open your videoask builder.
3
Click the Settings icon.
4
Click the Recording tab in the sidebar.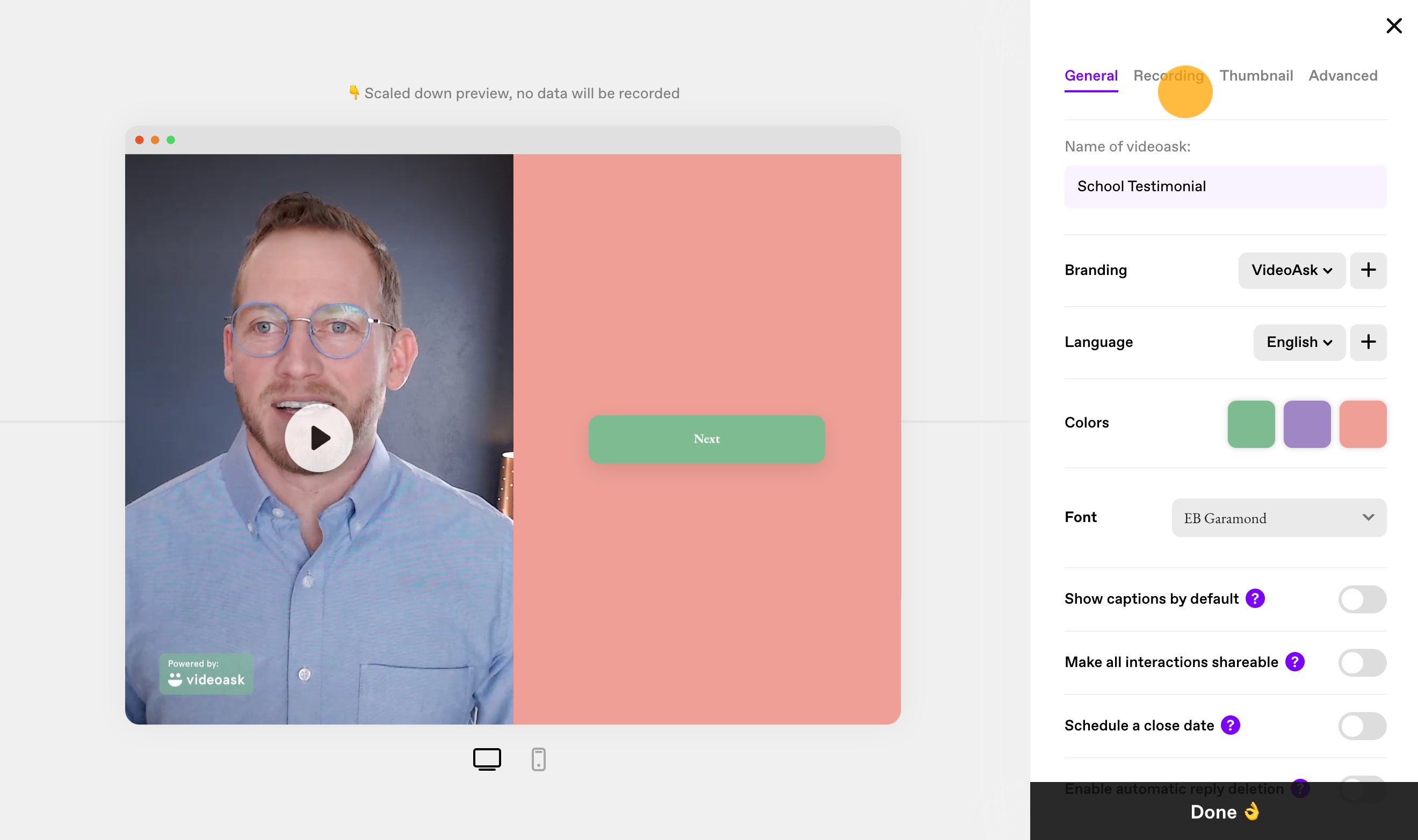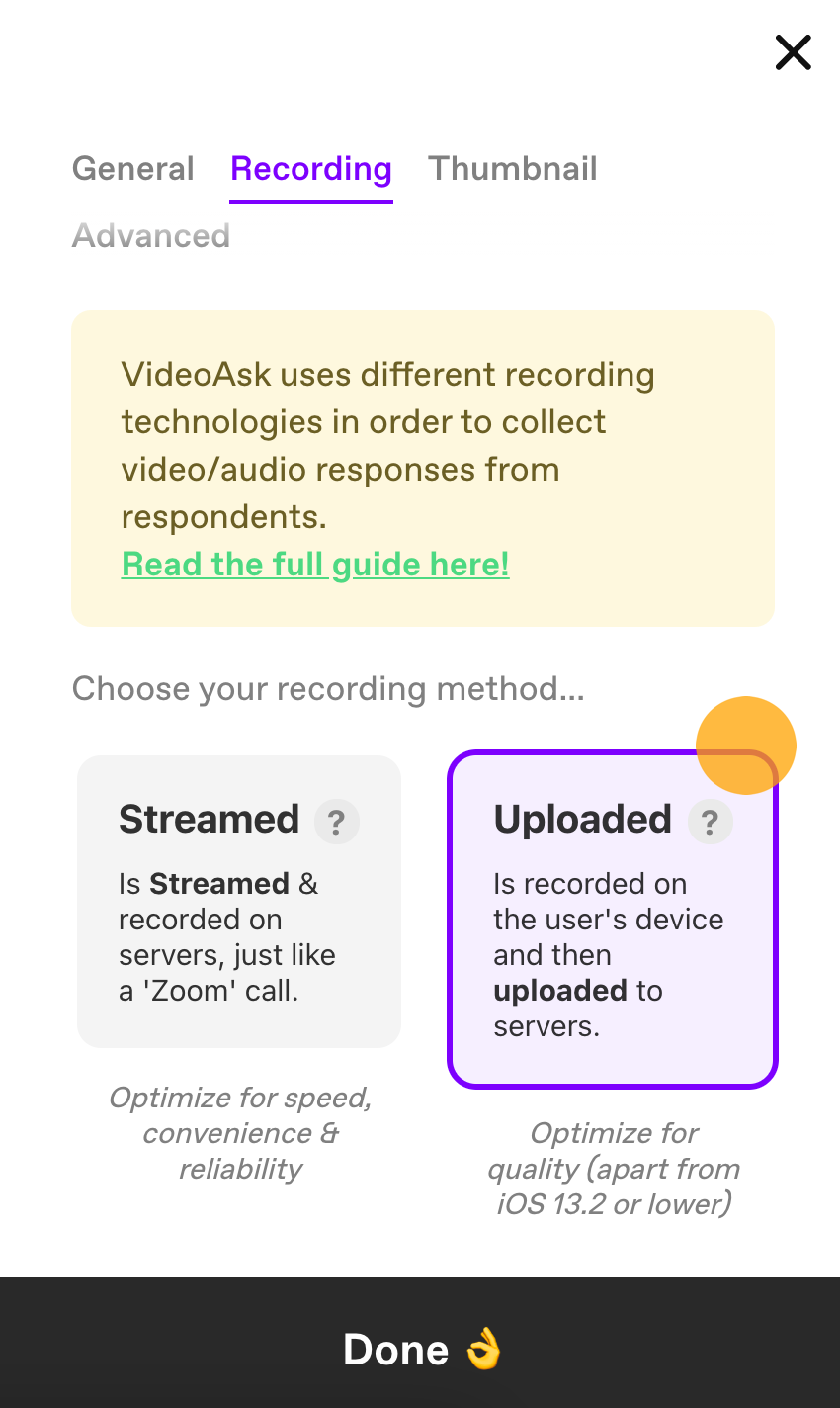 6
When you're finished, click Done👌.
What is a Streamed Recording?
VideoAsk streams the video or voice recording and records it in real time to the server. If the respondent does not accept the video, VideoAsk doesn't save the recording.
Streamed recordings rely on webRTC to achieve in-browser video and audio capture.
Note: Streamed recording is not yet implemented for follow-up replies, only for initial responses.
Why choose Streamed Recording?
Better respondent experience – no waiting time to upload.
Better reliability on slower connections/networks as the resolution and bitrate will downscale to avoid failed recordings.
Safari in-browser video recording is now fully supported.
HD recordings are also now achievable on iOS devices when the connection is good enough.
What is an Uploaded Recording?
VideoAsk captures the video or voice recording of the respondent and uploads it when the respondent accepts the recording.
This method caches the recording on the respondent's device until it has been accepted via the browser's built-in Media Recorder.
However, not all browsers have support for Media Recorder...
In-browser video capture is not supported on Safari Desktop yet (users can simply upload a video file from their computer).
In-browser video capture is not supported on Safari iOS yet (we use the iOS native camera app to capture video).
The native camera app on iOS does not allow HD-size recordings to be uploaded to the browser. This results in low-resolution (480x640) recordings submitted on iOS devices.
On supported browsers, recording happens locally using device resources such as disk space until the upload is completed.
Once a recording is complete, the user has to wait until the recording is uploaded.
Note: All creator videos are uploaded when they are created. Streamed Recording is only an option for respondents. 
How to choose between Uploaded and Streamed Recording
What's the key difference between Uploaded and Streamed Recording?
Network speed is less relevant for Uploaded Recording, as it's just uploading a file from your device, not saving it as it's being recorded.

Streamed Recording always adjusts resolution and bitrate based on the user's device performance and the speed of their network connection.
Choose Uploaded Recording if:
You want to guarantee the highest quality recording from a given device.
Your respondents can wait for their recording to upload
Your users could drop out due to slow upload
The internet connection could suddenly drop out
It's not a problem if your respondents on iOS are not able to record in HD
Example use cases: Video Testimonials, Compilation Videos

Choose Streamed Recording if:

You want to optimize for reliability and user experience on slower networks
You want better browser support
You want HD recordings on iOS
You don't mind getting lower-quality videos if the user has a worse connection
Example use cases: Feedback, Customer Support, Lead Generation
Note: Regardless of which option is used, respondents will always have the opportunity to view and submit or reject a video after it is recorded.
One more thing...
Respondents can always upload a pre-recorded video instead of recording within VideoAsk.
In this case, the only limitation that we impose is a maximum file size of 200MB. Respondents can use this option if they want to send video files directly and bypass any device/browser limitation.
You'll find the upload button in the toolbar which appears at the top of the screen when a respondent chooses to respond via video.