Created more videoask steps than you need? Look no further, we'll walk you through how to delete a videoask step in the instructions below.
Note that deleting a videoask step will not affect your usage for the month. Deleting a step does not delete the video associated with it. You can head over to your media library to use a video you've already recorded or delete videos from your account.
🛑 Before proceeding 🛑 Please, please, please 🙏 make sure you really don't need what you are about to delete. Once you have permanently deleted a step that has received responses, this will also delete the responses associated with the step and can't be reversed. We'd hate for you to lose any important content.
Looking to delete something else? Check out our other articles:
Delete a videoask step
⚡️ The quick version: Hover over a step and click the 3 dots for a shortcut to delete a step. Keep reading for more detailed instructions.
1
Click Build to open your videoask builder.
2
Select the step you want to delete.
3
Click the trash can icon in the upper right-hand corner of the sidebar.
4
Confirm you really want to delete the step (and all the answers associated with it) by typing the prompted text into the box and clicking Yes, delete it. Remember, there's no going back!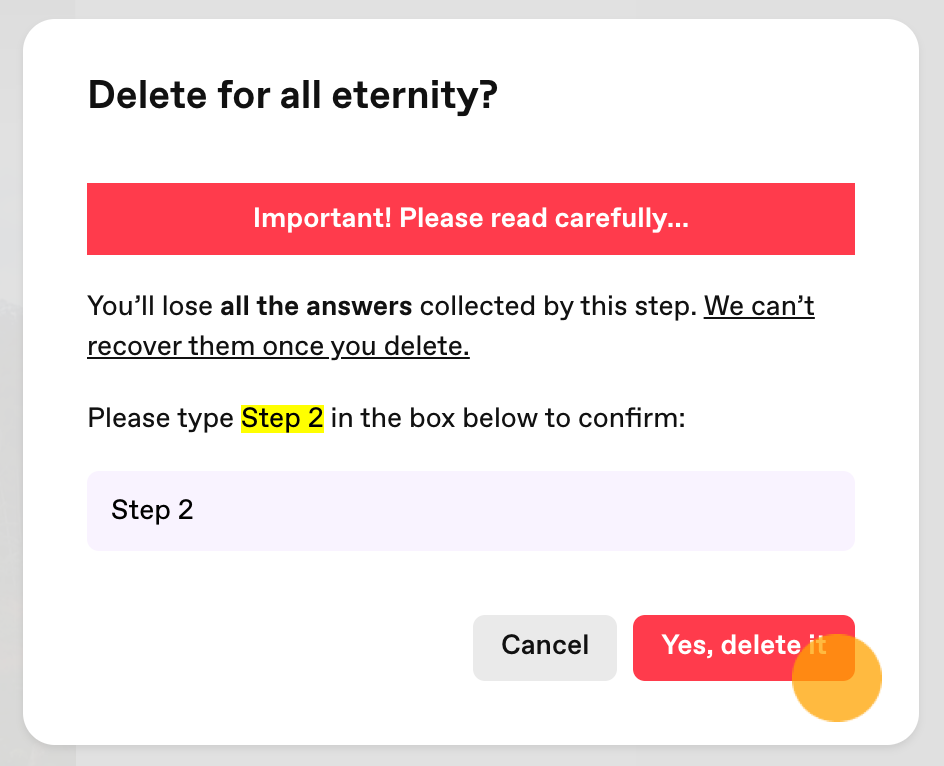 If there haven't yet been any responses to the step, you will not need to type in the verification text and you'll simply be able to click Yes, delete it.